We are really excited to announce that our team member, Dana Riel, will be the speaker for this month's
CosmoLex Webinar, titled: "Playing By The Rules"
BROADCAST: THURSDAY, SEPTEMBER 29th at 2:00 PM  EDT
With so many "rules" out there for lawyers, it's easy to trip over one now and then. A good way to find your footing is to start with the American Bar Association (ABA) Model Rules of Professional Conduct — in areas like conflict of interest, attorney/client confidentiality, acceptable billing, trust accounting, and more.
In this webinar, Ms. Riel will review the ABA Model Rules and show why ComoLex provides full practice management functionality, as well as time tracking, billing and accounting features, to teach your firm how to be compliant with the rules. You may click on this link to register for this free webinar.
CLICK HERE TO REGISTER FOR THIS FREE WEBINAR
For more information about this webinar, please contact Dana Riel at 800.475.5955 or email us at [email protected]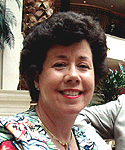 Dana Riel is President and Founder of Business Solutions, Inc., serving the Washington, D.C. metropolitan area since 1985. Her firm is the authorized training center for the region for Time Matters and PCLaw by PCLaw|Time Matters, PLLC; Timeslips and Sage 50 Accounting by Sage Software; and QuickBooks by Intuit Corporation. She also serves as a consultant for Caret Legal (formerly known as Zola Suite), CosmoLex, Soluno & TimeSolv.  As a trainer, Dana has provided training services to organizations such as the DOD Defense Logistics Agency, Judge Advocate General's Office (JAG)/Department of the Navy, University of the District of Columbia School of Law, U.S. Department of Commerce and the U.S. Department of Veterans Affairs, as well as with small‐ to mid‐size law firms in the Baltimore‐Washington D.C. area. In 2009, she participated in the series of day‐long seminars sponsored by the District of Columbia Bar Association Practice Management Section, titled "Basic Training: Learn About Running a Law Office". Ms. Riel also served as an Adjunct Professor in Georgetown University's Paralegal Studies Program, having taught the course, "Legal Ethics/Legal Technology" in 2009; and "Legal Technology" for the Spring and Summer Semesters of 2010. She presently serves on the Advisory Board for PCLaw|Time Matters, PLLC.