For years my fellow legal technology consultants had been recommending this conference. Now that I've had my first time there, I'm hooked. The Law Practice Management Section of the American Bar Association sponsors this conference annually in Chicago. It's not as big as Legal Tech in New York, but there is more "beef" in the knowledge tracks, and better opportunities to mix and mingle with participants who have questions and knowledge of the trends in this area.
Was it a coincidence that the current issue of the ABA Journal's lead story was the change in the Model Rules of Professional Conduct to include technology in its definition of "competence"? I think not. But it was the Number One topic there, with speaker after speaker driving home the point that attorneys can no longer stand before a judge and claim ignorance about computers, data storage and security to get their clients (or themselves) off the hook.
Other conference highlights –
The session titled "Tablet Wars" saw a major shift, with Android owners beating out Apple's iOS and Windows (Blackberry's OS wasn't even a contender)
The scariest session, and the one that made the deepest impression on attendees, was "Scary Tech: Cool Products and Hot Solutions for the Security-Minded Lawyer" with emphasis on *security*. In 2011 the U.S. Government labeled New York City's 200 largest law firms the "soft underbelly" of hundreds of corporate clients. For many firms the first hint of a data breach comes when the FBI arrives at their door. They won't tell you how they know; only that they've traced it to you. Lawyers call this interview "The Upchuck Hour".
There were multiple education tracks this year – Solo / Small Firm, Large Firm, Tech Grab Bag, Cloud / Collaboration, Social Media, and many more. Attendees had very positive reactions both to the diversity and depth of the classes offered.
And let's not forget the Vendor Fair, with several major technology vendors present, and excellent presentations by Paypros Legal, Pathagoras, Cloud9 Real Time and Smokeball
Best of all was the app designed for the conference and presented by the LPMS—informative, coherent and packed with White Papers that I'm still working through. Users could locate sessions, read up about the presenters, read their White Papers, enter and store notes and submit a survey rating the presentation, and all without involving one sheet of paper – truly a "green" approach.
I will be writing more in depth about what I learned at this year's conference in the weeks to come. For now, I will conclude by strongly recommending that you go and see it for yourself: Chicago. March 26-29, 2014. Be there.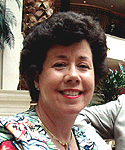 Dana Riel is President and Founder of Business Solutions, Inc., serving the Washington, D.C. metropolitan area since 1985. Her firm is the authorized training center for the region for Time Matters and PCLaw by PCLaw|Time Matters, PLLC; Timeslips and Sage 50 Accounting by Sage Software; and QuickBooks by Intuit Corporation. She also serves as a consultant for Caret Legal (formerly known as Zola Suite), CosmoLex, Soluno & TimeSolv.  As a trainer, Dana has provided training services to organizations such as the DOD Defense Logistics Agency, Judge Advocate General's Office (JAG)/Department of the Navy, University of the District of Columbia School of Law, U.S. Department of Commerce and the U.S. Department of Veterans Affairs, as well as with small‐ to mid‐size law firms in the Baltimore‐Washington D.C. area. In 2009, she participated in the series of day‐long seminars sponsored by the District of Columbia Bar Association Practice Management Section, titled "Basic Training: Learn About Running a Law Office". Ms. Riel also served as an Adjunct Professor in Georgetown University's Paralegal Studies Program, having taught the course, "Legal Ethics/Legal Technology" in 2009; and "Legal Technology" for the Spring and Summer Semesters of 2010. She presently serves on the Advisory Board for PCLaw|Time Matters, PLLC.