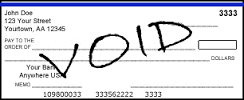 At this time of year, our clients are busy working with their accountants. As part of their year-end process, we are often asked how to void outstanding checks or deposits in PCLaw.
The simplest and most obvious way is to open the Register, highlight the transaction in question and use the Void/NSF button on the screen.
PCLaw will reverse the transaction as of the date it was voided.  Both transactions will then cancel each other out and can be checked off during the next bank reconciliation.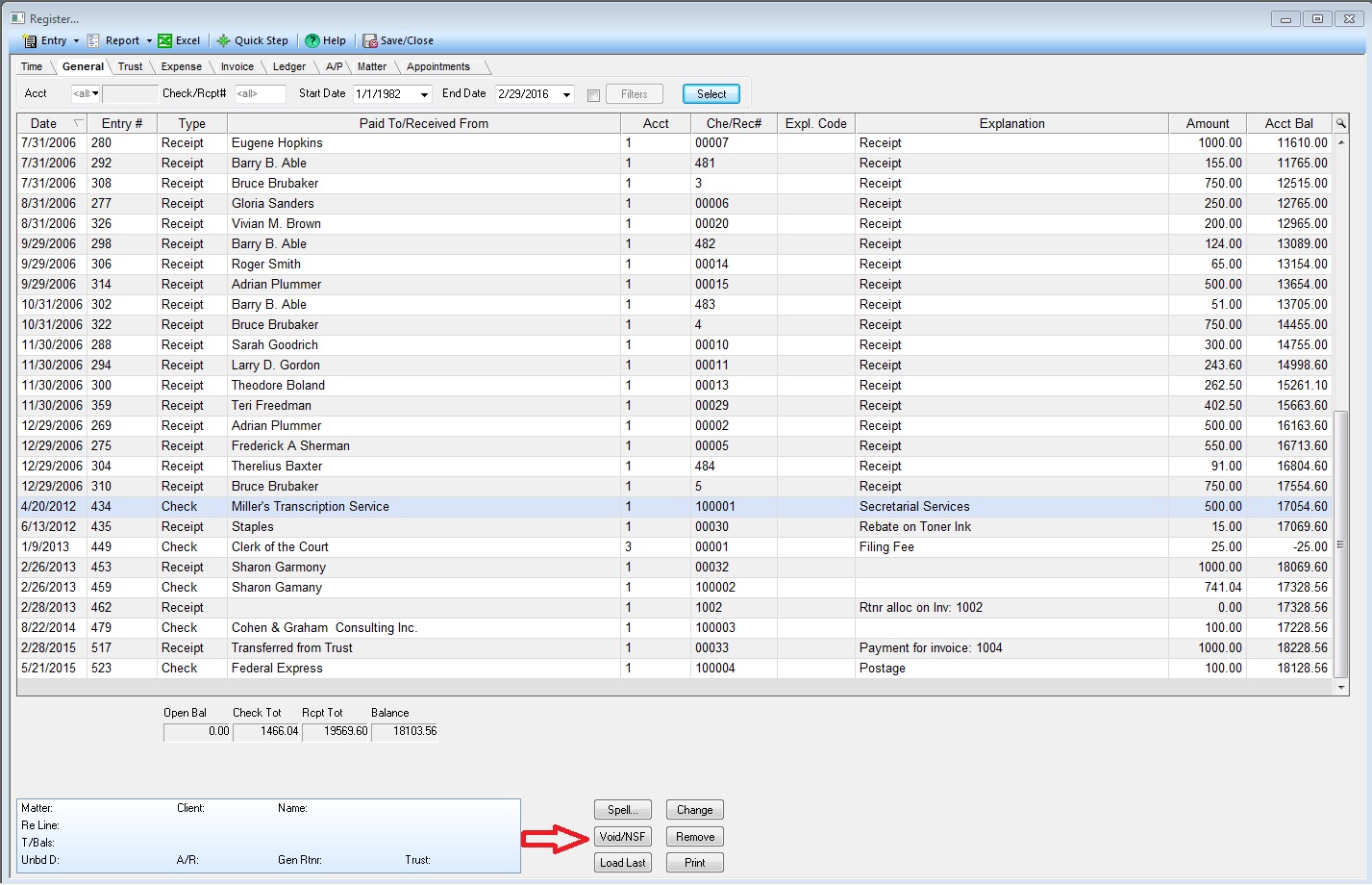 However, using this direct method may not be desirable.  For one thing, it is an irreversible procedure.  There are times when a transaction is voided only to find it cleared the bank at a later date.  A more complex scenario is one in which a transaction has been outstanding for years.  Merely reversing it may not have the desired outcome in terms of how the reversing entry is posted.
For these and other reasons, an alternative approach is to manually enter an offsetting entry.  In that way, the offsetting transaction can be edited or even removed if needed.  Depending on the original transaction, use one of the following options from the Data Entry menu:
| | |
| --- | --- |
|       If the original entry was a… |         Then use a… |
|       General Check |          Firm Receipt |
|       Firm Receipt |          General Check |
|       Receive Payment |          General Check with amount assigned to the Matter |
|       General Retainer |          General Check with amount assigned to the Matter |
|       Trust Receipt |          Trust Check |
|       Trust Check |          Trust Receipt with amount assigned to the Matter |
We have several PCLaw consultants on our Crosspointe team that can assist with training and report design so that you can get the most from this award-winning time tracking, cost tracking, billing and general ledger practice management system. Need help? Enter a comment below, or call us at 1-877-357-0555.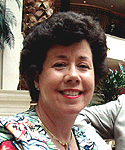 Dana Riel is President and Founder of Business Solutions, Inc., serving the Washington, D.C. metropolitan area since 1985. Her firm is the authorized training center for the region for Time Matters and PCLaw by PCLaw|Time Matters, PLLC; Timeslips and Sage 50 Accounting by Sage Software; and QuickBooks by Intuit Corporation. She also serves as a consultant for Caret Legal (formerly known as Zola Suite), CosmoLex, Soluno & TimeSolv.  As a trainer, Dana has provided training services to organizations such as the DOD Defense Logistics Agency, Judge Advocate General's Office (JAG)/Department of the Navy, University of the District of Columbia School of Law, U.S. Department of Commerce and the U.S. Department of Veterans Affairs, as well as with small‐ to mid‐size law firms in the Baltimore‐Washington D.C. area. In 2009, she participated in the series of day‐long seminars sponsored by the District of Columbia Bar Association Practice Management Section, titled "Basic Training: Learn About Running a Law Office". Ms. Riel also served as an Adjunct Professor in Georgetown University's Paralegal Studies Program, having taught the course, "Legal Ethics/Legal Technology" in 2009; and "Legal Technology" for the Spring and Summer Semesters of 2010. She presently serves on the Advisory Board for PCLaw|Time Matters, PLLC.